Discover the Affordable iROBO-ARP893-UHD-A7M93 Mobile Workstation for Industrial Use
Looking for a compact, portable, and powerful solution for your industrial needs? The iROBO-ARP893-UHD-A7M93 is the perfect affordable workstation tailored for you. Featuring three 23.8-inch TFT-LCD displays with a resolution of 3840×2160, it delivers exceptional image quality in a compact and portable design.
Powered by an Intel i5-9600 processor and C246 chipset, this workstation is efficient and fast. Equipped with 8GB DDR4 RAM (expandable to 128GB) and a 128GB SSD, it provides ample storage for your applications. A DVDRW is also included for added convenience.
Boasting 2xGbit LAN, 10xUSB, 1xPCIe x16 / 2x PCIe x4, 3xPCI, and a PS2 750W PSU, the iROBO-ARP893-UHD-A7M93 offers versatility and compatibility with a wide range of devices and systems. Designed to withstand the rigors of the industry, this mobile workstation is perfect for production, manufacturing, and logistics applications. Its portability makes it ideal for on-site and mobile applications as well.
At IPC2U, we're committed to delivering the highest quality and reliability. Our products are made from top-grade materials and thoroughly tested by our experts to meet the highest standards. We also offer first-class customer service and warranty on all our products.
Don't wait any longer – order your iROBO-ARP893-UHD-A7M93 affordable workstation from IPC2U today and experience ultimate performance and reliability in your business. Contact us now for more information or to place your order. We look forward to hearing from you!
Mobile workstation iROBO-ARP893-UHD-A7M93 for industrial needs. Available with Intel Core i3, Intel Core i5, Intel Core i7 9th generation processors.
Variety of Interfaces available.
With 1xCOM, 1xRS-232, up to 10xUSB, DVI-D, DB15 VGA, HDMI, 2xGbit LAN, 4xUSB, Audio (in/out/Mic), Display port, 1xPCIe x16 / 2x PCIe x4, 3xPCI the iROBO-ARP893-UHD-A7M93 offers a wide range of interfaces.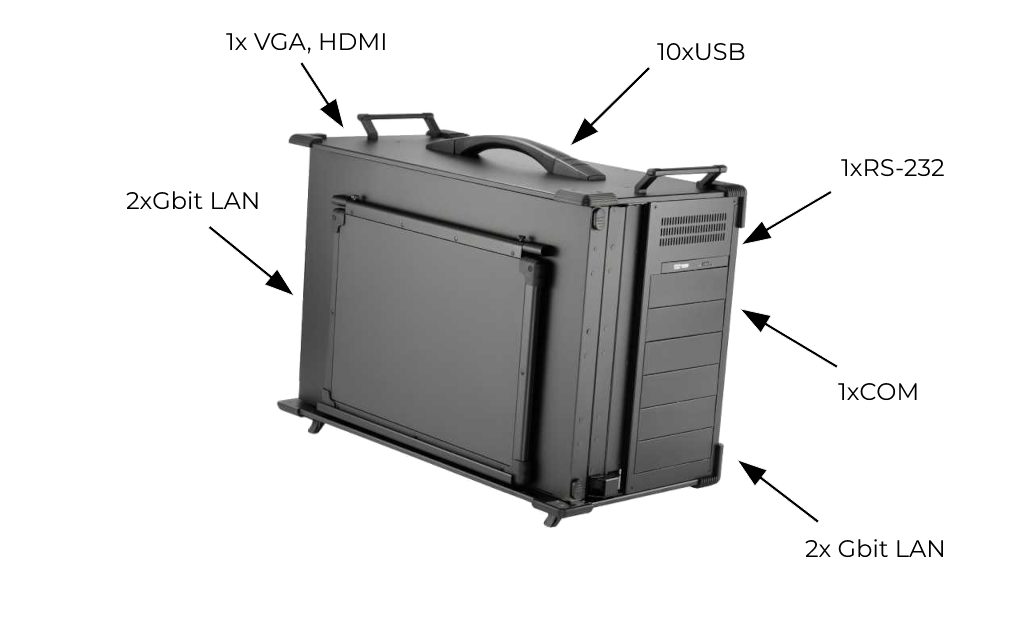 Benefit from long availability and first-class performance. Contact our product experts via form and receive non-binding advice.