The powerful 3.5″ rack industrial computer iROBO-23403-24T1: Flexibility and reliability for your industrial applications.
Experience the iROBO-23403-24T1, a 3.5″ rack industrial PC that stands out for its impressive performance and versatility. Designed for demanding industrial applications, this 2U rackmount industrial PC offers robust construction, long-term availability, and high performance.
The iROBO-23403-24T1 is powered by 9th generation Intel Core i3/i5/i7/Celeron processors, providing outstanding computing power for a variety of industrial applications. The Intel Q370 chipset optimally supports these powerful processors, ensuring smooth operation. The base configuration includes 4GB DDR4 RAM, expandable up to 64GB, and a fast 128GB SSD for high storage capacity and quick access to your data.
With a comprehensive range of interfaces, this 3.5″ rack industrial PC ensures maximum connectivity and expansion possibilities. The industrial PC features VGA, DP++, and DVI-D ports for integrating various display devices. Additionally, two Gigabit LAN ports offer fast and reliable networking, while a COM port and eight USB ports facilitate the connection of peripheral devices and accessories.
For additional expansion possibilities, the iROBO-23403-24T1 is equipped with one Mini-PCIe, one PCIe x16, one PCIe x4, and two PCI slots. These provide you with the ability to customize the industrial PC to your requirements and integrate various expansion cards, such as graphics or network cards.
Housed in a rugged steel enclosure, the iROBO-23403-24T1 3.5″ rack industrial PC offers excellent protection against external influences. The integrated 500W power supply with 80 Plus Gold certification ensures energy-efficient operation and contributes to the long-term reliability of the system. The long-term availability of the iROBO-23403-24T1 makes it the ideal solution for companies looking for a future-proof investment.
Trust in the iROBO-23403-24T1 3.5″ rack industrial PC and benefit from its performance. For inquiries, our expert team is available to assist you.
Industrie-PC mit 2HE Industrie-Gehäuse. Verfügbar mit Intel Core i3/i5/i7/Celeron-Prozessor der 9. Generation.
A variety of interfaces available.
The iROBO-24224-37T1 offers a variety of interfaces including VGA, DP++, DVI-D, 2xGbit LAN, 1xCOM, 8xUSB, 1xMini-PCIe, 1xPCIe x16, 1xPCIe x4, and 2xPCI.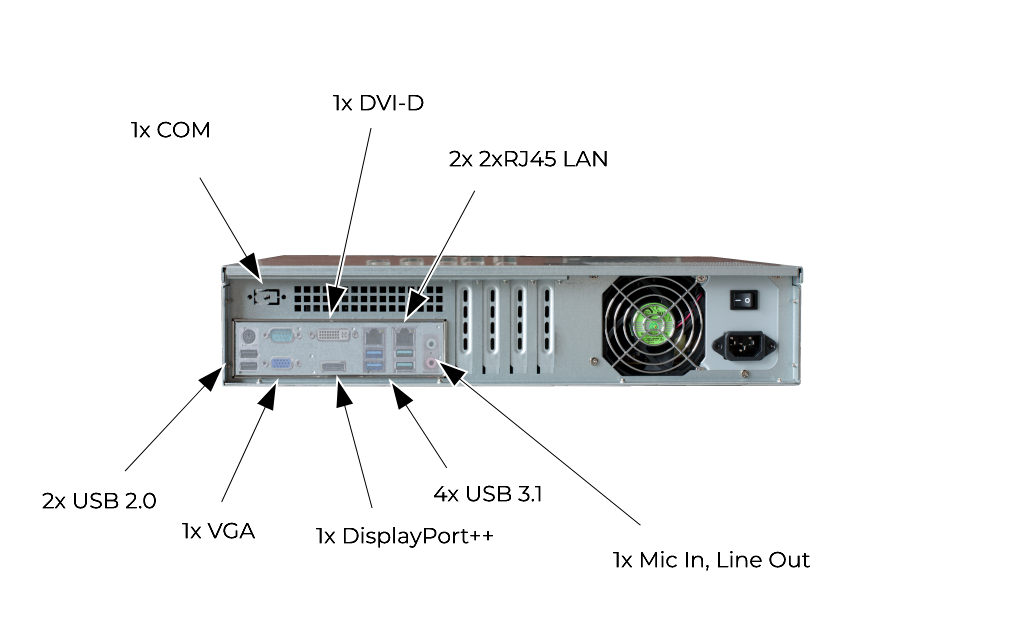 Benefit from long availability and top performance. Contact our product experts via form and get non-binding advice.