Fanless Box PC ADX643-EHTL: Power Meets Reliability in Industrial Environments
The state-of-the-art Intel 11th Gen Core i3/i5/i7 CPU, combined with up to 32GB DDR4 SODIMM RAM, is the driving force behind the ADX643-EHTL Fanless Box PC, providing unrivalled processing power. The ADX643-EHTL guarantees top-tier performance and seamless execution of even the most complex tasks, all while meeting the increasing demands in the era of the Internet of Things (IoT).
Thanks to its compact embedded DIN-Rail system, the ADX643-EHTL can be effortlessly integrated into your existing infrastructure. Its versatile connectivity, including HDMI, GbE LAN, 3×2.5GbE LAN, 2xRS232/422/485, 3xUSB 3.0, 2xUSB 2.0, and support for Nano-SIM and M.2 Key-B and -M interfaces, allows for easy connection to your existing systems and devices.
Leveraging the innovative Hailo-8 accelerator, the ADX643-EHTL offers a significant advantage in processing tasks in the realms of artificial intelligence (AI) and machine learning (ML). This capability greatly simplifies the development and implementation of AI-supported solutions.
The Fanless Box PC ADX643-EHTL is designed to operate in extreme environments, reliably functioning in temperatures from -20 to 60 degrees Celsius. With its robust construction and fanless design, it offers high longevity, minimal maintenance costs, and trouble-free operation, even in harsh industrial environments.
The power supply via 12VDC-in provides flexibility and eases installation in various environments.
Opt for the ADX643-EHTL if you're in search of a robust, high-performance, and versatile Fanless Box PC that meets and exceeds your industrial requirements. This Box PC is not just an investment in technology, but also a commitment to performance and efficiency.
For further information, please do not hesitate to contact our sales team via email at sales@ipc2u.de.
Fanless Box PC. Available with 11th Gen Intel® Tiger Lake-UP3, i7 / i5 / i3 / Celeron CPU.
Large number of interfaces available.
With 4 x Intel GbE LAN, 3 x USB 3.0, 2 x USB 2.0, 2 x COM, the ADX643-EHTL offers a wide range of interfaces.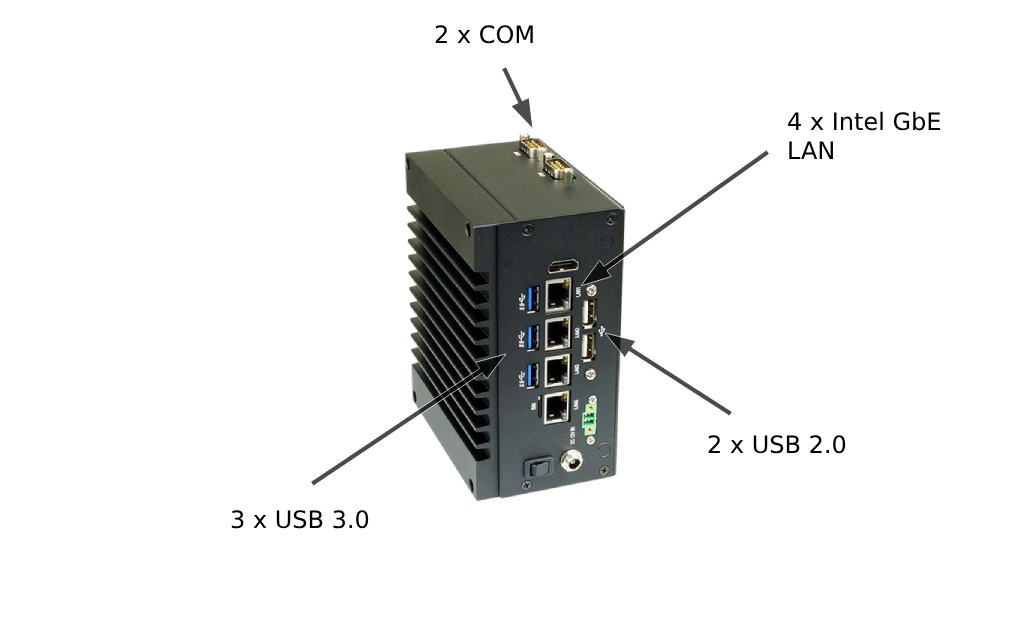 | Model | Short description |
| --- | --- |
| ADX643-EHTL-i3 | Tiger Lake-UP3, i3 |
| ADX643-EHTL-i7 | Tiger Lake-UP3, i7 |
Benefit from long availability and first-class performance. Contact our product experts via form and receive non-binding advice.