ADX643-E0TL: High-Powered Fanless DIN Rail Embedded PC
Interested in elevating the operations of your facilities and systems to the next level? The Fanless DIN Rail Embedded PC ADX643-E0TL is precisely what you need. This impressive embedded system introduces a new level of performance and versatility to your technical operations.
At the heart of the ADX643-E0TL is the Intel 11th Gen Core i3/i5/i7 CPU. This groundbreaking technology delivers top-notch performance and efficiency, providing you the speed and computational power necessary for the most demanding applications.
Not only that, but the ADX643-E0TL also offers an impressive memory capacity with up to 32GB DDR4 SODIMM RAM. Whether for data processing, control applications, or networked systems – this powerful Fanless DIN Rail Embedded PC will never let you down.
What truly sets the ADX643-E0TL apart from other PCs is its multitude of connectivity options. With 1x HDMI, 1x GbE LAN, 3x 2.5GbE LAN, 2x RS232/422/485, 3x USB 3.0, and 2x USB 2.0, you can effortlessly connect and synchronize a variety of devices and systems.
Moreover, the ADX643-E0TL additionally offers 1x Nano-SIM, 1x M.2 Key-B, and 1x M.2 Key-M, adding even more versatility to your possibilities. Whether you control networked facilities, monitor complex processes, or carry out demanding automation tasks – with this PC, you are always on the safe side.
The best part? The ADX643-E0TL is absolutely robust. With an operating temperature range of -20 to 60°C and a 12VDC power supply, this PC is designed for durability and reliability. No matter the conditions under which you work, you can rely on the ADX643-E0TL to perform.
The Fanless DIN Rail Embedded PC ADX643-E0TL combines performance, versatility, and reliability into a single, efficient system. Discover today what this impressive piece of technology can do for you.
Please feel free to contact our sales team for more information at sales@ipc2u.de.
DIN Rail Embedded PC. Available with 11th Gen Intel® Tiger Lake-UP3, i7 / i5 / i3 / Celeron CPU.
Large number of interfaces available.
With 4 x Intel GbE LAN, 3 x USB 3.0, 2 x USB 2.0, 2 x COM, the ADX643-E0TL offers a wide range of interfaces.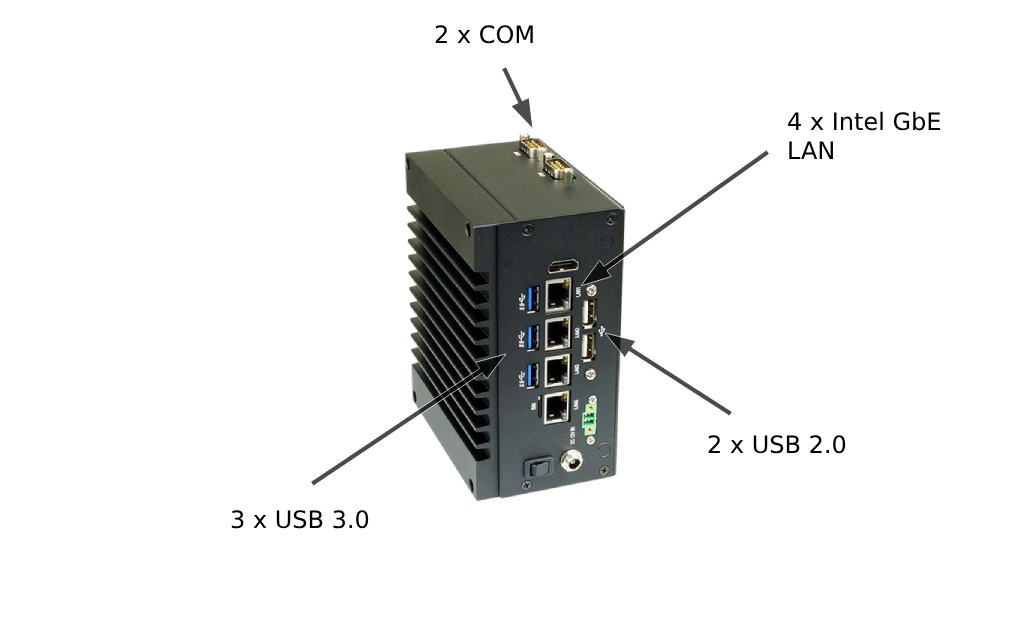 | Model | Short description |
| --- | --- |
| ADX643-E0TL-i3 | Tiger Lake-UP3, i3 |
| ADX643-E0TL-i7 | Tiger Lake-UP3, i7 |
Benefit from long availability and first-class performance. Contact our product experts via form and receive non-binding advice.