ADX642-E000: The Fanless, Compact Embedded PC
The ADX642-E000 redefines the concept of the "fanless compact embedded PC," setting new standards in terms of performance, connectivity, and robustness.
At its core, an Intel Elkhart Lake Atom/Celeron CPU efficiently handles even the most demanding applications. Supported by a generous 8GB of LPDDR4 RAM, any task is completed in a flash, without compromising system performance. The ADX642-E000 proves that size and power do not always have to go hand in hand.
The comprehensive range of connections leaves no desires unmet. With two HDMI ports, two 2.5GbE LAN ports, three RS232 interfaces, and additional USB ports, the ADX642-E000 provides extraordinary flexibility and is ready for any challenge. A Nano-SIM slot is also available for communication scenarios, guaranteeing fast and secure connections.
The M.2 Key-B and Mini-PCIe slots offer additional possibilities for expansions and customizations. As such, you can perfectly tailor the fanless, compact embedded PC to your individual needs.
The rugged ADX642-E000 is designed for a wide temperature range from 0 to 60 degrees Celsius, or even from -20 to 60 degrees Celsius, making it an ideal choice for harsh environments.
The DIN-rail mounting allows for easy and secure installation into existing systems and control cabinets. With its compact size and quiet operation due to its fanless design, the ADX642-E000 can be inconspicuously integrated almost anywhere.
Discover the ADX642-E000, a powerful, fanless, and compact embedded PC that stands out for its reliability, high performance, and excellent connectivity. Immerse yourself in the world of quiet yet powerful computing.
For further information, please feel free to contact our Sales Team by email at sales@ipc2u.de.
Fanless compact embedded PC. Available with Elkhart Lake ATOM® X6413E / J6412 CPU.
Large number of interfaces available.
With 2 x Intel 2.5 GbE LAN, 2 x USB 3.0, 4 x USB 2.0, 4 x COM, the ADX642-E000 offers a wide range of interfaces.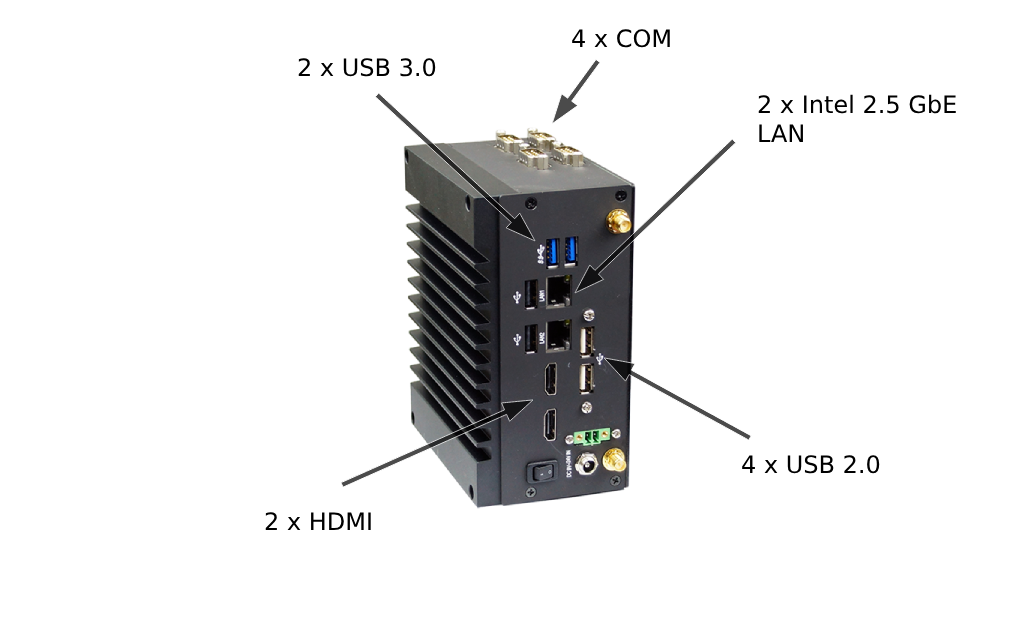 | Model | Short description |
| --- | --- |
| ADX642-E0A6 | Atom x6413E |
| ADX642-E0C6 | Celeron J6412 |
Benefit from long availability and first-class performance. Contact our product experts via form and receive non-binding advice.